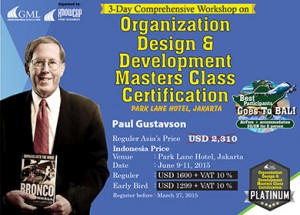 Sustainable organization performance, such as consistent growth in customer loyalty, market share, or profitability, depends on effectiveness of organization development and design. More than just having structure, companies must ALIGN its strategy, structure, processes, people and culture in order to be fully effective.
June 9-11, 2015 | Park Lane Hotel, Jakarta
Organization Design & Development Master Class Certification
SPEAKER: PAUL GUSTAVSON
President of Organization Planning and Design Inc (USA)
Board Member of Marriott School of Management's OB/HR Advisory
Book Author and Consultant with work featured in over 50 books, magazines and journals, including: Business Week, Fortune Magazine, the New York Times and Wall Street Journal.
Participants will have the unique benefit of learning first-hand from the person who developed and refined many of these techniques, and will get hands-on experience in using them during the workshop.
BEST CERTIFIED PARTICIPANT WINS free tickets and accommodations to BALI for two persons!