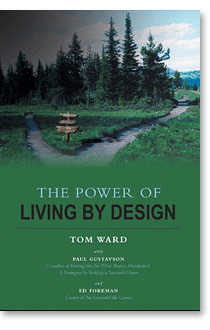 Based on the proven premise that "individuals are perfectly designed to get the outcomes they get", The Power of Living By Design provokes your thoughts using a framework called the Successful Life Systems Design Model to guide you in understanding choices you've made in your life, either consciously or unconsciously. Integrating classic success principles from over twenty resources as alternative choices, The Power of Living By Design then provides a sequenced system to assure your future choices are aligned to efficiently work together toward your desired success.
As builders follow the architect's plans to remodel an outdated house into a beautiful home, with lessons from The Power of Living By Design, you can use the framework to identify the rooms in your life that merit remodelling and the sequenced system to create a personal blueprint for reconstruction. You become your own architect and builder of the future you yearn.
For individuals that seek to understand the cause and effect of their choices and are looking for a systematic approach to changing some choices in their life, The Power of Living By Design is an integration of proven strategies and techniques to make a difference in designing a life of fulfillment.
http://www.poweroflivingbydesign.com/